Riverside County Approves Resolution on George Floyd Murder But No Support for Police Review and Community Engagement
10 June 2020
The Riverside County Board of Supervisors today approved a resolution decrying the murder of George Floyd.
Event date: 6/10/2020 12:00 AM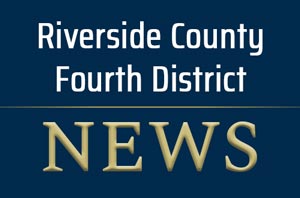 RIVERSIDE – The Riverside County Board of Supervisors today approved a resolution decrying the murder of George Floyd. However, Supervisor Perez received no support to initiate a review of policing policies and community engagement.
The resolution, authored by Supervisor Perez, condemns the murder of George Floyd and supports the criminal charges brought against the four former officers of the Minneapolis Police Department, and seeks justice to be done to the full extent of the law. The resolution recognizes that those actions do not represent the men and women who serve and protect their respective communities with the highest level of professionalism. It states that Riverside County does not and will not tolerate, nor accept in any way, violent or disrespectful treatment of others that degrades dignity and disregards human life.
"This resolution demonstrates not only to Minneapolis, but to the residents of the County of Riverside that we care and will not tolerate this moving forward," said Supervisor Perez.
The Board of Supervisors also heard an agenda item introduced by Supervisor Perez to initiate a review of Riverside County's policing policies and call for community engagement through public forums. Supervisor Perez did not get a second to move this forward.
"Institutional racism is a problem that we can't ignore. Frankly, this is only the beginning and this encompasses a much larger discussion than reviewing policing practices. It is also a discussion on many areas of concern affecting the African American community that include housing, education, health, access to capital and opportunities for economic empowerment and upward mobility. The time is now to move from systemic racism to systemic change and work to build a better County of Riverside," stated Supervisor Perez.
Supervisor Perez is disappointed in the outcome of the policing review he proposed, but shares that he appreciates everyone who spoke on the two agenda items.
"I thank everyone who came and supported our call to action. Many speakers highlighted historical incidences that have happened in our local communities that are important to recognize. It is my hope, and our goal, that we continue to stay engaged and keep these discussions going.