Riverside County and Supervisor Perez Prepare for Hurricane Hillary Impact
August 18, 2023
Hurricane Hillary is expected to impact Riverside County through the weekend. County departments have been working with local, state, and federal partners to prepare and are ready to mobilize quickly if needed.
Image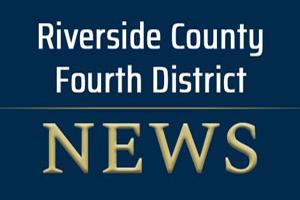 In the Coachella Valley, sandbags are available in all County Fire Stations and will be replenished if they run out. To find a sandbag distributor near you go to: www.rivcoready.org/disaster-preparedness. In unincorporated communities that have been affected by strong rains in the past, especially in the Eastern Coachella Valley, we are ensuring that our community partners such as Galilee Center, Coachella Valley Rescue Mission, North Shore Yacht Club, Mecca Resource Center, Martha's Village, and Coachella Valley Unified School District are ready should they need to be activated.
"Hurricane Hillary will be here this weekend and we are asking everyone to prepare," says Supervisor V. Manuel Perez, "The County is doing all we can to be ready and provide all the resources needed to our residents. If you don't need to leave your house, don't. Let's stay safe everyone!"
"The County is coordinating with local, state, federal, tribal, and nonprofit agencies to make sure that we are ready for whatever this storm may bring. It is incredibly important that our residents take their own actions to ensure they are prepared as well. Plan now by having an emergency kit, ensuring that your gas tank is at least half full and that you keep your cell phones fully charged. All residents should sign up for rivcoready.org/alert-rivco and follow all instructions from public safety agencies" said Bruce Barton, Riverside County Emergency Management Director. 

This is the second time in history that a storm of this category makes landfall Southern California, the last time was 1939. Let's stay #RivCoReady. 
###
Supervisor V. Manuel Perez represents the Fourth Supervisorial District on the Riverside County Board of Supervisors. The largest district in the county by geography, the 4th District covers eastern Riverside County, from Whitewater, stretching across the entire Coachella Valley south to the Salton Sea, up Highway 74 to Idyllwild and the mountain communities, and heading east of the Coachella Valley to Blythe and the Colorado River.
Supervisor Perez's office hours are 9 a.m. to 5 p.m. Monday through Friday.