The Salton Sea North Lake Pilot Demonstration Project
The Salton Sea North Lake Pilot Demonstration Project (Demonstration Project) is being funded through Proposition 68. This is a $19.25 million demonstration pilot project for the construction at the north end of the Salton Sea consisting of approximately 156 acres of shallow and deep-water habitat for fish and birds which provides an opportunity to stimulate the local economy and recreational activities.
Image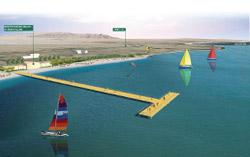 Riverside County Department of Public Social Services Coachella – Ribbon Cutting June 20, 2019
Supervisor V. Manuel Perez joined county and City of Coachella officials in celebrating the ribbon cutting of the new county social services building in Coachella on June 20, 2019. 
"This is a pocket of hope for all our people in Riverside County," said Supervisor Perez. "This will bring a better quality of life for our people, and bring social justice closer to our communities every single day. It will have services to help every single individual get on their feet again. That's how we can help our economy grow. This is deeply meaningful to me, as I grew up in Coachella, and is my pocket of hope. This is our pocket of hope for the future generations." 
The newly constructed Riverside County Department of Public Social Services regional office is located in Coachella at 1283 Sixth St., in the downtown Pueblo Viejo corridor. 
The 30,000 square foot Self-Sufficiency Division will help clients with temporary assistance programs that include CalWORKs, CalFresh (food stamps), Medi-Cal as well as Welfare-to-Work (GAIN) program assistance that facilitate individuals and families to become self-sufficient. The full-service office is expected to serve more than 50,000 people every year from Coachella, as well as communities in eastern Coachella Valley and eastern Riverside County. 
The building was developed under a public-private partnership with Capital Partners Development Company, which constructed the facility from 2018-July 2019, and is leasing it to the county.
Image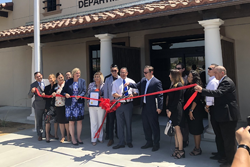 Blythe Animal Shelter – Grand Opening Dec. 11, 2010
Supervisor John J. Benoit joined county officials and community leaders at the grand opening of the Blythe Animal Shelter Dec. 11, 2010 at 245 S. Carlton Ave.
"This new, modern animal shelter has the additional capacity to hold more animals and offers a convenient location for residents to access," said Supervisor Benoit. "This is a great addition to the Blythe area."
Built at a cost of $2.1 million, the 5,700-square-foot shelter will house approximately 1,500 animals annually. The animal shelter is expected to handle more than 80 dogs and 40 cats daily.
The decision to build a new shelter dates back to 2006 when much-needed upgrades were discussed for the older facility near the Blythe Airport (16450 West Hobson Way). At the time, renovations to the facility, which housed 1,200 animals annually, were estimated to cost as much as $1 million. Supervisor Roy Wilson championed the idea of a new shelter in Blythe, and Supervisor Benoit continued his momentum.
Services at the shelter will include adoptions, lost-pet assistance, spay and neuter surgeries, vaccinations, microchipping and humane euthanasia requests.
Image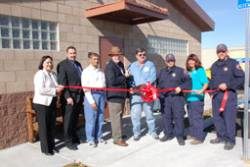 Coachella Valley Volunteers in Medicine Clinic - Grand Opening Feb. 4, 2013
The Coachella Valley Volunteers in Medicine now operates from a new clinic built by Riverside County to serve patients who cannot afford health insurance and do not receive medical care through government programs. An estimated 60,000 men and women in the Coachella Valley meet that standard and can now receive services, free of charge, at the clinic.
The clinic, which was dedicated at a ribbon cutting Feb. 4, 2013, is located at 82-915 Avenue 48 in Indio.
The Volunteers in Medicine is staffed by approximately 50 volunteer retirees and active practitioners in the medical and administrative field. The clinic offers women's services, dental services and general medical services free of charge to uninsured patients who are ineligible for county, state or federal government programs.
Riverside County has entered into a 20-year lease with the Volunteers in Medicine to operate the facility. Patient volume is expected to surpass 6,000 visits this year.
Built at the cost of $2,856,887 from county redevelopment funds, the 6,133-square-foot clinic is double the size of the previous, temporary office at 81-880 Dr. Carreon Blvd. Energy-efficient lighting and design may earn the facility a level of Leadership in Energy and Environmental Design (LEED) certification.
Operational support for the Volunteers in Medicine has come from JFK Memorial Hospital, Eisenhower Medical Center and Desert Regional Medical Center, with additional financial support from the Coeta and Donald Barker Foundation, the California Wellness Foundation, the Desert Healthcare District, the Foley Foundation, the City of Indio, Indio Sunrise Rotary, Kaiser Permanente Community Benefits, Starbucks Partner Giving Program and various individual donors. Donations can be made directly via www.cvvim.org.
To volunteer, support the Volunteers in Medicine or to see if you qualify for services and make an appointment, please call 760-342-4414.
Image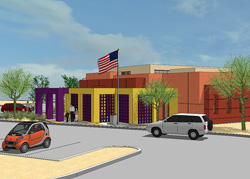 Mecca Boys and Girls Club - Grand Opening Dec. 2, 2011
The Joel E. Smilow Clubhouse of the Boys & Girls Clubs of Coachella Valley, located in Mecca at 91-391 Avenue 66, opened to the public on Dec. 2, 2011.
This new clubhouse is an outstanding resource for the Mecca community, especially with its young population.  The clubhouse provides computer access and a safe environment for children to study and learn teamwork that will equip them for success in life.
The 30,636 square-foot clubhouse includes a teen center, cyber café, exercise and weight room, gymnasium, community meeting room, homework center, boxing club and interior courtyard for outdoor activities and outdoor basketball courts.  The design of the facility incorporates many features detailed in the Mecca Design Guidelines such as Spanish roof tiles, decorative paving, covered walkways and lush but drought-tolerant landscaping.  The approximately $7 million project was funded by redevelopment and was constructed between April 2010 and fall 2011.
The clubhouse is open from 2 p.m. to 7 p.m. Monday through Friday during school session and from 7:30 a.m. to 5:30 p.m. during non-school days (winter breaks and summer vacations). read more
Image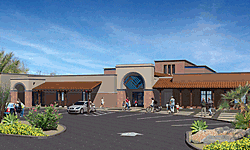 North Shore Beach Yacht Club & Community Center – Grand Opening May 1, 2010
Located on the Salton Sea's northern shoreline at 99-155 Sea View Drive, the North Shore Yacht Club facility was designed by renowned architect Albert Frey and was host to many Hollywood celebrities who kept boats and entertained at the club during the heyday of the "California Riviera."
Over time, the building fell into abandonment and was a magnet for graffiti.  The county commenced a significant historic rehabilitation project, engaging an architectural historian who verified compliance with the Secretary of the Interior's standards throughout the design and construction process.
In May 2010, the 6,500-square-foot, 52-year-old structure, designated a Riverside County Historic Landmark, completed a $3.5 million renovation, adding multipurpose rooms, two offices, a kitchen, indoor and outdoor restroom facilities, a children's playground and multi-purpose outdoor patio space.
This historic structure is being used today as a community center, offering physical fitness activities and after-school programs.
Image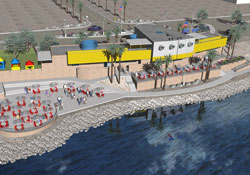 Roy Wilson Community & Child Care Center - Grand Opening Sept. 1, 2010
Located at 13341 Mesa Drive, the Roy Wilson Community & Child Care Center opened on Sept. 1, 2010.
The latest piece in the Mesa Verde Improvement Project, which has also brought a new water system and paved roads to the community, the 5,937-square-foot facility will be divided into a community and child care center, a center for important services in the community.  The Renu-Hope Foundation will provide child care services for newborn through preschool ages.
The project cost $2.3 million to construct.  The community center features solar panels and energy-efficient windows to reduce the center's future operational costs as a cool center and venue for public meetings. 
Image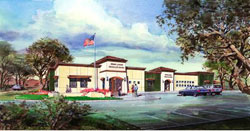 Thermal Jerry C. Rummonds Memorial Community and Senior Center – Rededicated March 9, 2010
In March 2010, the 30-year-old Jerry C. Rummonds Memorial Community and Senior Center, located at 87-299 Church Street, completed $210,000 in upgrades in order to improve accessibility and increase energy efficiency.  The center received a new façade, new water wise landscaping, roofing repairs, air conditioning system, repainted interior walls, and new carpet and paint in the community center room.
Image